---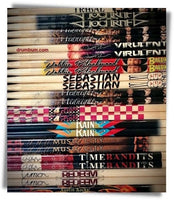 Item #STK-105
Buy custom drumsticks with your band or company logo on them! Our sticks are high-quality with the most effective, brilliant printing in the business. Popular with bands as they put them on their merch. table to sell to their fans. A great way to raise extra revenue for your group! After you purchase, we will send you an e-mail with artwork requirements needed. Quality maple drumsticks. Available in sizes 5A, 5B, and 2B. Please allow 2 to 3 weeks for delivery. 

If you are a company and wish to have custom made drumsticks to giveaway as a promotional idea for your team or convention, contact us about lower prices with higher volume orders. We have worked with some of the largest brands in the industry including McDonalds, Old Navy, Coca-Cola, Hard Rock Cafe, and others. 
If you only wish to buy one or two pairs of drumsticks but want something imprinted on them, please see our engraved personalized drumsticks program. 
 Custom Drumsticks
If haven't tried custom imprinted drumsticks as one of your marketing tools for branding and name recognition, you're missing out. Everyone loves drumsticks and whether they're a drummer or not, people love to create rhythms. While we work with many well-known bands, providing custom sticks for their merchandise tables, we also work with companies who are looking for something unique for their next promo event or marketing campaign.